Queer Lecture Series - Spring 2023
Presented by the Women's and Gender Studies Department
Mondays, 11:00-12:15pm, Wine Spectator 1001
All Lectures Free and Open to All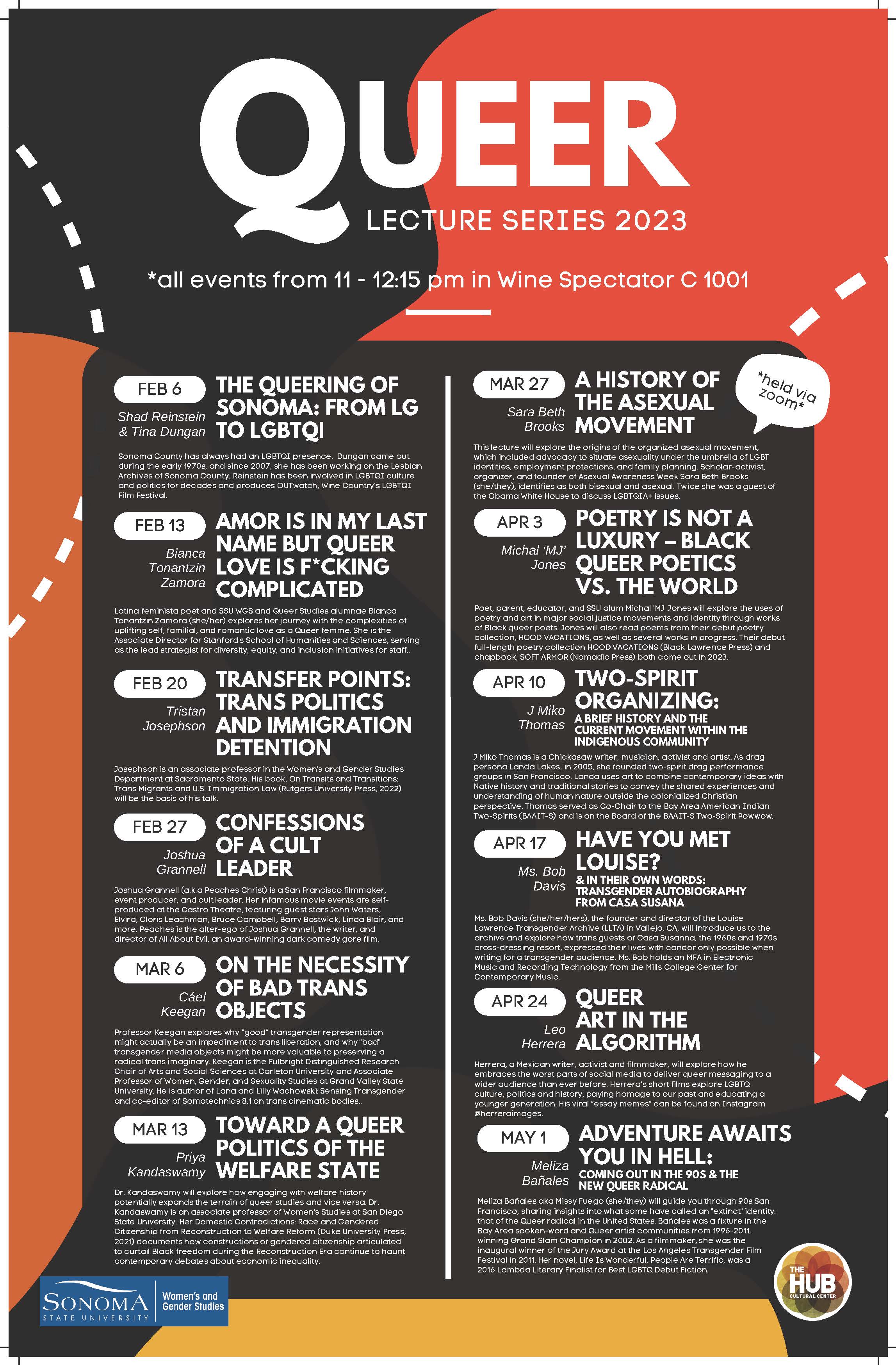 1/30 Cary Escovedo (aka Kochina Rude), "Drag, Punk, and Public Health"
Kochina Rude is a Chicana drag queen, vocalist, and emcee born and raised in the San Francisco Bay Area.  She is a host for "Princess" at SF Oasis; out of drag, she is a public health representative, the singer for punk band Lolly Gaggers, an SSU Women's & Gender Studies alumnus, and a harm reduction advocate. A self-described anarchist and cyborg feminist, Escovedo will discuss how growing up on margins in the North Bay has informed his work, and how committing to subcultural advocacy can leverage ulterior forms of power in plain sight.
2/6  Shad Reinstein & Tina Dungan, "The Queering of Sonoma: From LG to LGBTQI"
Sonoma County has always had an LGBTQI presence. What was happening here in the years before the 1969 Stonewall Riots? What did gender nonconformity look like in Sonoma during the 1970s and 80s? How did we help stop a national anti-LGBTQ movement? Did the intersex movement start here? Dungan came out during the early 1970s through her involvement in the first SSU Women's Studies program. Since 2007, she has been working on the Lesbian Archives of Sonoma County. Reinstein has been involved in LGBTQI culture and politics for decades and produces OUTwatch, Wine Country's LGBTQI Film Festival.
2/13 Bianca Tonantzin Zamora, "Amor Is in My Last Name But Queer Love Is Fucking Complicated" 
Latina feminista poet and SSU WGS and Queer Studies alumnae Bianca Tonantzin Zamora (she/her) explores her journey with the complexities of uplifting self, familial, and romantic love as a Queer femme. She is the Associate Director for Stanford's School of Humanities and Sciences, serving as the lead strategist for diversity, equity, and inclusion initiatives for staff. A graduate with distinction from SSU, she earned a Master of Science from Miami University in Student Affairs with Diversity & Equity.
2/20 Tristan Josephson, "Transfer Points: Trans Politics and Immigration Detention"
Josephson is an associate professor in the Women's and Gender Studies Department at Sacramento State. His book, On Transits and Transitions: Trans Migrants and U.S. Immigration Law (Rutgers University Press, 2022) will be the basis of his talk.
2/27   Joshua Grannell (aka Peaches Christ), "Confessions of a Cult Leader"
Grannell (aka "Peaches Christ") will talk about a life-long obsession with cult films and its connection with queerness.Peaches Christ is a San Francisco filmmaker, event producer and cult leader. Her infamous movie events are self-produced at the Castro Theatre, featuring guest stars John Waters, Elvira, Cloris Leachman, Bruce Campbell, Barry Bostwick, Linda Blair, and more. Peaches is the alter-ego of Joshua Grannell, the writer and director of All About Evil, an award-winning dark comedy gore film. Joshua is also the co-owner of the Into The Dark production company which produces Terror Vault each October.
3/6     Cáel Keegan, "On the Necessity of Bad Trans Objects"
What's wrong with "positive" transgender representation? Professor Keegan explores why "good" transgender representation might actually be an impediment to trans liberation, and why "bad" transgender media objects might be more valuable to preserving a radical trans imaginary. Keegan is the Fulbright Distinguished Research Chair of Arts and Social Sciences at Carleton University and Associate Professor of Women, Gender, and Sexuality Studies at Grand Valley State University. He is author of Lana and Lilly Wachowski: Sensing Transgender and co-editor of Somatechnics 8.1 on trans cinematic bodies. He serves as Special Editor for Arts and Culture at Transgender Studies Quarterly.
3/13   Priya Kandaswamy, "Toward a Queer Politics of the Welfare State"
What does it mean to think about the welfare state from a queer perspective and what is the relationship between queer politics and struggles for economic justice? Dr. Kandaswamy will explore how engaging with welfare history potentially expands the terrain of queer studies and vice versa. Dr. Kandaswamy is an associate professor of Women's Studies at San Diego State University. Her Domestic Contradictions: Race and Gendered Citizenship from Reconstruction to Welfare Reform (Duke University Press, 2021) documents how constructions of gendered citizenship articulated to curtail Black freedom during the Reconstruction Era continue to haunt contemporary debates about economic inequality.  
3/27 Sara Beth Brooks, "A History of the Asexual Movement" [via zoom]
Today asexuality is included as the A in LGBTQIA+, but that wasn't the case just 10 years ago. This lecture will explore the origins of the organized asexual movement, which included advocacy to situate asexuality under the umbrella of LGBT identities, employment protections, and family planning. Scholar-activist, organizer, and founder of Asexual Awareness Week Sara Beth Brooks (she/they), identifies as both bisexual and asexual. Twice she was a guest of the Obama White House to discuss LGBTQIA+ issues.
4/3   Michal 'MJ' Jones, "Poetry Is Not a Luxury – Black Queer Poetics vs. the World"
Poet, parent, educator, and SSU alum Michal 'MJ' Jones will explore the uses of poetry and art in major social justice movements and identity through works of Black queer poets. Jones will also read poems from their debut poetry collection, HOOD VACATIONS, as well as several works in progress. Their debut full-length poetry collection HOOD VACATIONS  (Black Lawrence Press) and chapbook, SOFT ARMOR (Nomadic Press) both come out in 2023.
4/10 J Miko Thomas, "Two-Spirit Organizing: A Brief History and the Current Movement within the Indigenous Community"
J Miko Thomas is a Chickasaw writer, musician, activist and artist. As drag persona Landa Lakes, in 2005, she founded two-spirit drag performance groups in San Francisco. Landa uses art to combine contemporary ideas with Native history and traditional stories to convey the shared experiences and understanding of human nature outside the colonialized Christian perspective. Thomas served as Co-Chair to the Bay Area American Indian Two-Spirits (BAAIT-S) and is on the Board of the BAAIT-S Two-Spirit Powwow. She co-founded the Weaving Spirits Native Art Festival.
4/17 Ms. Bob Davis, "Have you Met Louise?" and "In Their Own Words: Transgender Autobiography from Casa Susana"
Ms. Bob Davis (she/her/hers), the founder and director of the Louise Lawrence Transgender Archive (LLTA) in Vallejo, CA, will introduce us to the archive and explore how trans guests of Casa Susanna, the 1960s and 1970s cross-dressing resort, expressed their lives with candor only possible when writing for a transgender audience. Ms. Bob holds an MFA in Electronic Music and Recording Technology from the Mills College Center for Contemporary Music. She has taught music at City College of San Francisco and Solano Community College, and currently teaches at Napa Valley College.
4/24 Leo Herrera, "Queer Art in the Algorithm"
Herrera, a Mexican writer, activist and filmmaker, will explore how he embraces the worst parts of social media to deliver queer messaging to a wider audience than ever before. Herrera's short films explore LGBTQ culture, politics and history, paying homage to our past and educating a younger generation. His Fathers is a sci-fi documentary and multimedia project which imagines the AIDS pandemic never existed and a generation lived to change the world. His viral "essay memes" can be found on Instagram @herreraimages.
5/1   Meliza Bañales, "Adventure Awaits You in Hell: Coming Out in the 90s & the New Queer Radical"
Meliza Bañales aka Missy Fuego (she/they) will guide you through 90s San Francisco, sharing insights into what some have called an "extinct" identity: that of the Queer radical in the United States. Bañales is an author, advocate, and adventurer. She was a fixture in the Bay Area spoken-word and Queer artist communities from 1996-2011, winning Grand Slam Champion in 2002. As a filmmaker, she was the inaugural winner of the Jury Award at the Los Angeles Transgender Film Festival in 2011. Her novel, Life Is Wonderful, People Are Terrific, was a 2016 Lambda Literary Finalist for Best LGBTQ Debut Fiction. Their new book, roōt for the underdog: poems, was released in October 2022.