Queer Lecture Series - Spring, 2022
Presented by the Women's and Gender Studies Department
Mondays 11:00-12:15pm, Salazar 2016
All Lectures Free and Open to All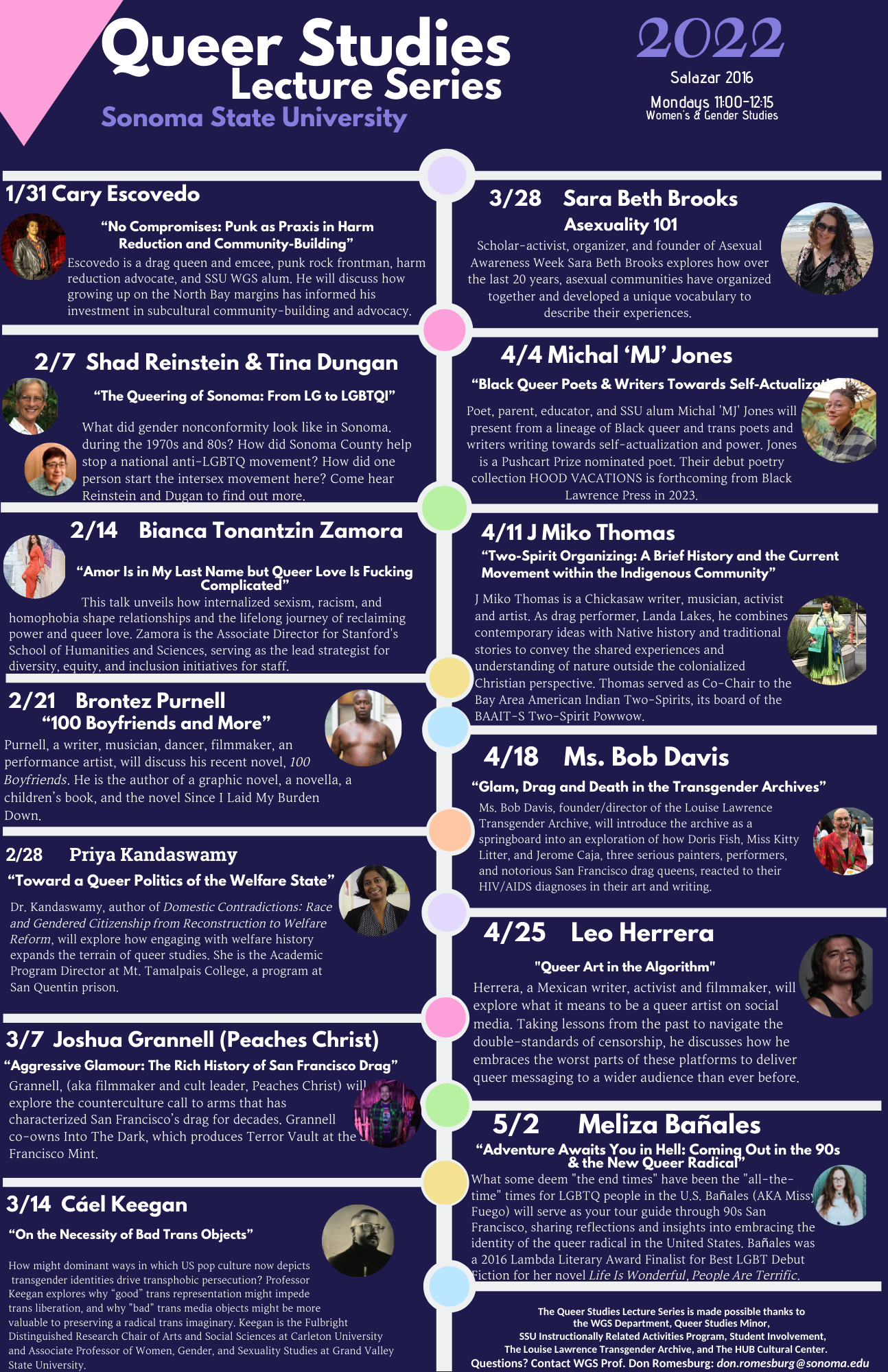 January 31 - Cary Escovedo, "No Compromises: Punk as Praxis in Harm Reduction and Community Building"
Escovedo is a drag queen and emcee, punk rock frontman, harm reduction advocate, and SSU WGS alum. He will discuss how growing up on the North Bay margins has informed his investment in subcultural community-building and advocacy.
February 7 - Shad Reinstein & Tina Dungan, "The Queering of Sonoma: From LG to LGBTQI"
What did gender nonconformity look like in Sonoma during the 1970s and 80s? How did Sonoma County help stop a national anit-LGBTQ movement? How did one person start the intersex movement here? Come here Reinstein & Dungan to find out more.
February 14 - Bianca Tonantzin Zamora, "Amor Is in My Last Name but Queer Love is Fucking Complicated"
This talk unveils how internalized sexism, racism, and homophobia shape relationships and the lifelong journey of reclaiming power and queer love. Zamora is the Associate Director for Stanford's School of Humanities and Sciences, serving the lead strategist for diversity, equity, and inclusion initiatives for staff.
February 21 - Brontez Purnell, "100 Boyfriends and More"
Purnell, a writer, musician, dancer, filmmaker, and performance artist, will discuss his recent novel, 100 Boyfriends. He is the author of a graphic novel, a novella, a children's book, and the novel Since I Laid My Burden Down.
February 28 - Priya Kandaswamy, "Toward a Queer Politics of the Welfare State"
Dr. Kandaswamy, author of Domestic Contradictions: Race and Gendered Citizenship from Reconstruction to Welfare Reform, will explore how engaging with welfare history expands the terrain of queer studies. She is the Academic Program Director at Mt. Tamalpais College, a program at San Quentin prison.
March 7 - Joshua Grannell (Peaches Christ), "Aggressive Glamour: The Rich History of San Francisco Drag"
Grannell, (aka filmmaker and cult leader, Peaches Christ), will explore the counterculture call to arms that has characterized San Francisco's drag for decades. Grannell co-owns Into the Dark, which produces Terror Vault at the Francisco Mint.
March 14 - Cáel Keegan, "On the Necessity of Bad Trans Objects"
How might dominant ways in which US pop culture now depicts transgender identities drive transphobic persecution? Professor Keegan explores why "good" trans representation might impede trans liberation, and why "bad" trans media objects might be more valuable to preserving a radical trans imaginary. Keegan is the Fulbright Distinguished Research Chair of Arts and Social Sciences at Carleton University and Associate Professor of Women, Gender, and Sexuality Studies at Grand Valley State University.
March 28 - Sara Beth Brooks, "Asexuality 101"
Scholar-activist, organizer, and founder of Asexual Awareness Week, Sara Beth Brooks explores how over the last 20 years, asexual communities have organized together and developed a unique vocabulary to describe their experiences.
April 4 - Michael 'MJ' Jones, "Black Queer Poets & Writers Towards Self-Actualization"
Poet, parent, educator, and SSU alum Michael 'MJ' Jones will present from a lineage of Black queer and trans poets and writers writing towards self-actualization and power. Jones is a Pushcart Prize nominated poet. Their debut poetry collection, HOOD VACATIONS, is forthcoming from Black Lawrence Press in 2023.
April 11 - Miko Thomas, "Two-Spirit Organizing: A Brief History and the Current Movement within the Indigenous Community"
J Miko Thomas is a Chickasaw writer, musician, activist, and artist. As drag performer, Landa Lakes, he combines contemporary ideas with Native history and traditional stories to convey the shared experiences and understanding of nature outside the colonialized Christian perspective. Thomas served as Co-Chair to the Bay Area American Indian Two-Spirits, its board of the BAAIT-S Two-Spirit Powwow.
April 18 - Ms. Bob Davis, "Glam, Drag, and Death in the Transgender Archives"
Ms. Bob Davis, founder/director of the Louise Lawrence Transgender Archive, will introduce the archive as a springboard into an exploration of how Doris Fish, Miss Kitty Litter, and Jerome Ceja, three serious painters, performers, and notorious San Francisco drag queens, reacted to their HIV/AIDS diagnoses in their art and writing.
April 25 - Leo Herrera, "Queer Art in the Algorithm"
Herrera, a Mexican writer, activist, and filmmaker, will explore what it means to be a queer artist on social media. Taking lessons from the past to navigate the double-standards of censorship, he discusses how he embraces the worst parts of these platforms to deliver queer messaging to a wider audience than ever before.
May 2 - Meliza Bañales, "Adventure Awaits You in Hell: Coming Out in the 90s & and the New Queer Radical"
What some deem "the end times" have been the "all-the-time" times for LGBTQ people in the US. Bañales (aka Missy Fuego) will serve as your tour guide through 90s San Francisco, sharing reflections and insights into embracing the identity of the queer radical in the United States. Bañales was a 2016 Lambda Literary Award Finalist for Best LGBT Debut Fiction for her novel Life Is Wonderful, People Are Terrific.
The Queer Studies Lecture Series is made possible thanks to the WGS Department, Queer Studies Minor, SSU Instructionally Related Activities Program, Student Involvement, The Louise Lawrence Transgender Acrhive, and The HUB Cultural Center. Questions? Contact WGS Prof. Don Romesburg at don.romesburg@sonoma.edu.